Choosing a bathtub is a big decision. They are expensive, make an immediate impact, and are the focal point of your bathroom. However, a bathtub is just one of many elements that make up your bathroom style.
We share 40 bathtub surround ideas to help you enhance your space and hopefully save you money on your bathroom remodel.
Key Takeaways
Choose the right tub surround material: Options include wainscoting, shiplap, beadboard, granite, and tiles.
Consider the style and design: Match the surround to your bathroom's decor, and consider DIY options for a more budget-friendly choice.
Maintain the surround: Use waterproof materials and sealants to ensure durability and prevent water damage.
Get creative with your surround: Mix and match materials, colors, and designs to create a unique and personalized look.
---
Is a Tub Surround a Good Idea?
If you have a freestanding tub or a claw-footed model, a bathtub surround is unlikely to grab your attention. However, for those with built-in bathtubs, a surround is an excellent way of disguising unsightly metal tub frames and bare floors beneath.
It creates neat lines, adds style to the tub's appearance, and enhances your bathroom.
DIY Tub Surround Ideas
Okay, so now that your tub needs a new surround, it's time to decide on the right style for your decor scheme. Luckily, there are many skirts, panels, and enclosures to match every taste and pocket.
Wainscoting Surround
Wainscoting is an excellent way to blend your new tub into your bathroom decor scheme. If you already have a half-paneled wall, it connects the tub with the existing decor. However, wainscoting may not be the best choice if you have a modern style because it will clash.
Most wainscotting skirts and panels are vinyl with primed wooden frames to make them waterproof. They are attached to the bathtub with screws and silicone sealant.
Shiplap Surround
Shiplap enclosures are another hark back to a style from days gone by. It has a rustic, country style that is not so much glass and chrome but more seaside cottage. If you want a traditional look, shiplap can help you achieve it.
Most shiplap tub surrounds are made from primed wood or MDF (medium-density fiberboard) and are similar to beadboards, except for how they are installed. Shiplap interlocks, while beadboard surrounds are nailed individually by the panel.
Shiplap skirts are attached using either nails, screws, or silicone.
Word Of Caution
MDF is susceptible to water damage, so ensure it is well primed and always use quality paint that repels moisture. This INSL All-Purpose Primer is a great choice.
Beadboard Surround
Beadboard surrounds are another traditional style of enclosure. They are similar to shiplap, except that the boards are individually nailed to the frame rather than interlocking. Also, the panels are narrower, giving it a rustic feel.
Most beadboards are either wooden or MDF, and it is possible to buy a "cheat" beadboard where the grooves are routed rather than created using multiple boards. Choosing this option is one of the cheap tub surround ideas.
Granite Surround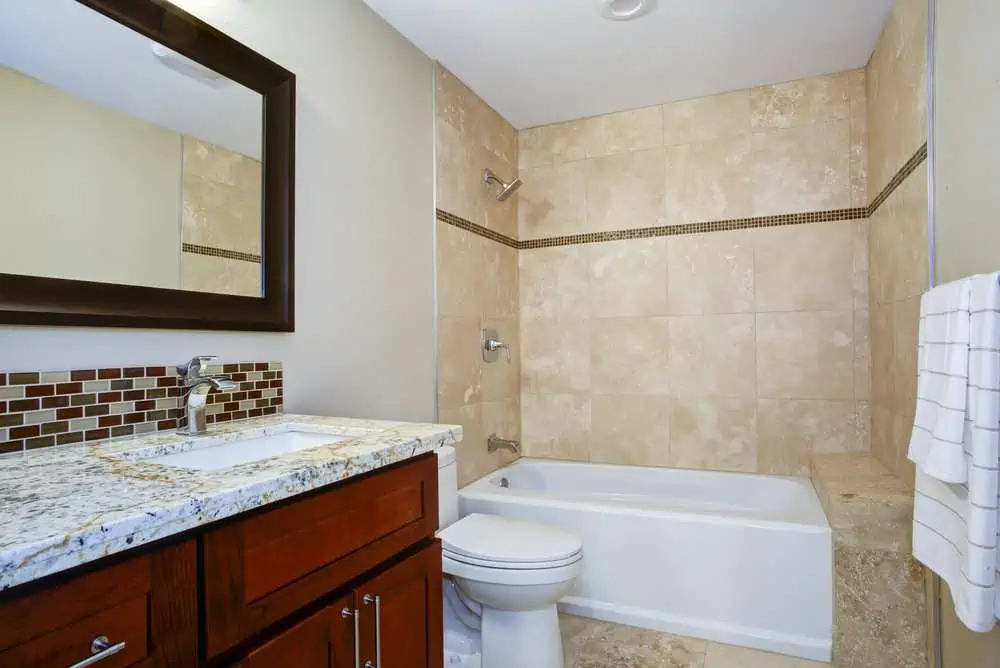 Granite surrounds are the very essence of luxury and style. They are expensive, but they add a touch of boutique-hotel class to any bathroom.
It completes the look if you can get the surround to match the worktops. You can get granite surrounds that come in tiles of one complete unit that lines the edge of the bath. This then gives you a small shelf to store bath trinkets and candles.
Italian Tiles
Another classic style is Italian tile. It looks similar to marble and gives your room a regal elegance. They work best when coupled with a circular or roll-topped bathtub to complete the look.
Italian tiles are expensive, so you might want to consider the costs and how to use them to get the best value. You don't need to tile more than 12 inches up the adjoining wall unless you have a shower over the bath, so that saves money.
Try them against an adjoining wall with a window to reduce the number of tiles you use. It also frames the window, making it a feature of the room.
Ceramic Tiles
Ceramic tiles are easier on your wallet and can deliver excellent results. You can get thousands of different styles and designs to suit every taste and scheme. If you want to create a cozy feel in the bathroom, coupled with intimate lighting, choose darker colors, like this image.
They've used dark green tiles and arranged them in a classic Herringbone design for better impact.
Top Tip
Break up your design with a listello (border) cutting straight through the middle of the wall. It adds extra detail and increases the impact.
Marble-Effect Porcelain
If you want a marble bathtub surround but don't have the budget, try using inexpensive marble-style porcelain. It is almost impossible to spot the difference, so we won't tell if you don't.
Genuine marble is one of the most expensive materials to use in our homes. It's why you only see it in expensive hotels and movie-star houses.
Art Deco Surround
Art deco is a popular style that harks back to the roaring 20s. Think gangsters, prohibition, and secret drinking dens. Art deco encapsulates a style borne out of freedoms that just weren't there in the Victorian era.
Its modern outlook and angular lines have lasted the test of time, and it is as popular today as ever. This design uses many art deco features, like bold lines and archways, but cleverly mixes modern fixtures.
Subway Tile Surround
The next time you visit the subway, take a look at the walls. Old subways are covered in highly-glazed tiles arranged in a brick pattern rather than linear, with the grout in straight lines. It creates a unique style that has become known as "subway."
This image highlights why it is a great idea for your bathtub surround. You can pick up subway tiles from the hardware store or purchase Peel and Stick tile sheets online.
Keep In Mind
If you want to make a bigger impact, use black grout rather than white. It makes the tiles stand out by highlighting the design.
Shelf Surround
Building a shelf surround looks good and is useful for storage. You can decorate it with candles, bath scents, and other perfumes. You would need to build a wooden frame and measure the depth of the shelf, so it doesn't take up too much room.
It's the ideal small-space solution, especially when you install it under a window to make it a feature. The image above shows a simple wooden shelf with neutral tiles can be just as effective as expensive materials that cost a lot more.
Bullnose Trim Surround
Bullnose tiles are miter cut at the top edge to create a neater finish. Arranging one row of tiles around the bathtub is the simplest and cheapest way to complete the project. Other bullnose tiles have a curved edge, like in the image above.
Custom Surround
When you have a bathtub with awkward shapes, it calls for a custom tile surround. You would probably need the services of a professional tiler to complete the project unless you are an experienced DIY enthusiast.
The image above uses subway tiles for the wall of the surround and a dramatic custom-cut granite top to hug the bathtub. It works well here because the tub has a roll-top, but it would look good with other styles.
Imagine a jacuzzi bath with this design; it would feel very luxurious!
MDF Surround
Medium Density Fiberboard is readily available, easy to work with, and, best of all, cheap! It is the budget solution for your tub surround. You can cut it in any style or design, just like wood.
However, you will need to seal the MDF with a waterproof sealer, like this Micro-Seal. It locks moisture out and prevents the MDF from absorbing water and swelling.
Take Note
Water is the enemy of MDF because it causes the fibers to swell and crumble. You should always use a sealer and at least three coats of paint.
You could also seal the fiberboard and tile on top to keep moisture at bay. The world is your oyster when it comes to the final finish, as long as it is waterproof.
This example uses neutral whites to enhance a classic drop-in tub and matches the color of the window frames.
Lengthways Shiplap Surround
When you use shiplap, you can lay it in two ways: vertically and horizontally. Applying the boards to go vertically increases the impression of tub depth. Doing it horizontally makes the tub look longer and more spacious.
This bathtub is small, so it benefits from lengthwise shiplap to make it look bigger. This is another low-cost solution because you can use MDF or other composite boards to create the look.
Top Tip
Wooden shiplap is the ideal design for a garden jacuzzi. It looks best when painted in natural colors to enhance the wood grain.
Mix and Match Surround
Mixing and matching the tiles is a great way of creating unique designs. Try to keep to the same colors, like in this image, but experiment with different tile sizes. Laying them in diamonds and squares makes an attractive contrast.
This image shows the impact of fitting larger tiles to the walls and floor in a subtle gray and using smaller subway tiles for the surround and tub wall.
Weathered Timber Surround
The rustic style is simple, charming, and effective. Nothing screams character more than weathered wood. It has a distressed aged feel and is highly tactile.
You can use light wood or go dark as they did in this picture to create a warm and inviting space. They've even extended it up the walls to enhance that log cabin feel.
Whitewashed Wooden Surround
Sticking with the wooden surround theme, why not whitewash the timber to create a colonial feel. Depending on how thick you apply the whitewash, you can also create French farmhouse chic with this method.
This image also uses cracked and chipped wood to enhance the vintage feel.
Enclosure Surround
Unleash your creative side and enclose the entire bath with an arched surround. You can go full-on gothic with air bricks and fake sandstone, or tone it down with subway tiling and a privacy curtain. This image shows that plain white tiles are a great option.
Faux Stone Surround
Faux stone is made from lightweight vinyl, so it sticks to tub surrounds and looks and feels like the real deal. You can also use fake stone infused with cement board, aluminum, or steel. They usually come in interlocking sheets for easy installation.
Distressed Surround
Okay, so while old wood is excellent for creating that vintage or rustic feel, why not go the whole way and get the distressed look. You can use painted, chipped, scratched, or even split planks. The point is the more damaged the wood, the better.
The great news is you probably have spare wood left over from other DIY projects. So, not only is this a greener alternative, but it's also cheap because you're using reclaimed materials.
Top Tip
When using reclaimed wood, dry it thoroughly before installing it. It is unlikely to be waterproof and will absorb moisture like a sponge. Once dry, coat it with a clear sealer.
Metal Surround
So, we are going full-on industrial with this look, but you have to admit it has style. Using galvanized metal is the key here because it is treated to deal with moisture and won't rust as readily.
In this bathroom, they have married the tub surround with the wall to create that industrial feel.
Faux Wood Surround
Using real wood for your surround is excellent, as long as you enjoy maintaining the wood. It gets moldy, fades, and splits. Why not use fake wooden tiles instead?
We guarantee you won't tell the difference. It even feels like natural wood! However, faux wooden tiles don't need such high maintenance. They withstand moisture and simply wipe clean like standard tiles.
Natural Timber Surround
There is nothing quite like natural timber for your tub surround. It smells great, looks stylish, and you just want to touch it. However, you can't use any old wood for this project. You will need to use treated wood that repels the damaging effects of moisture.
You can use any treated wood you like, although teak and oak are the most robust at dealing with water damage.
Stone Veneer Surround
If you want your new tub surround to look like it was hewn out of solid rock, stone veneers are the way to go. This image shows that they look so realistic that it is difficult to spot the real from the fake.
Using the same veneer for the wall behind the tub completes the look and makes your bathroom look like it belongs in a Swiss mountain lodge. These veneers come in interlocking bricks or sheets and are waterproof and low maintenance.
Deck Surround
You usually find decking outside your home, but you can use it inside too. Ensure you use treated deck boards to repel water damage. This is an ideal solution if you have a hot tub or jacuzzi and want to create that classic Scandinavian style.
Colored Tile Surround
Using bright colors can cheer up a dull space, especially if you have a smaller bathroom. You might want to keep things muted and only use colors that complement each other, or go full-on and mix and match.
The image above uses contrasting shades of the same color to accent the surround and shelf behind the tub to great effect. It grabs your attention, and yet it all blends together.
Vivid Colored Surround
The rule here is that there are no rules regarding bright and vivid color schemes. Anything goes, as you can tell from this kaleidoscope of colors in the image. While the tub surround is plain, you could go all in and match it to the wall.
You could use random colors or work to a pattern, alternating colors.
Contrasting Surround
Many people feel the urge to match the surround with the color scheme but sometimes contrasts work well together. Black and white is the most common contrasting color scheme. It creates bold lines and makes your bathroom stand out.
It's better to use black as an accent color than the other way around. Covering your smallest room in black would make it feel like you were bathing at midnight with the lights off.
Retro Color Surround
While covering your bathroom in dark colors isn't always a good idea, it can create that retro feel in larger spaces. It could mean you need an alternative to a white tub. You can buy black or dark brown bathtubs to create that luxurious and cozy feel.
The tub in the image is a freestanding tub that contrasts nicely with the lighter background.
Molded Surround
Nothing shouts style like ornate molding, and when you wrap it around your bathtub, it creates a classic look from an era long gone. It gives your bathroom a style akin to the great country houses of England or lavish Manhattan hotels.
This example uses molding to match the walls and surround, as well as the arched recess that the tub sits in.
Canopy Surround
We've all dreamed of owning a four-poster bed, but what if you could get the same design for your bathtub? This luxurious example proves that canopy bathtubs exist.
You would need a big budget for this design, but you can recreate it for much less using simple wood and MDF. Finish off the detail with some stick-on molding and a classic color like cream or blue.
Surround Kits
Surround kits come in several designs and styles. You can get one, two, three, and five-panel kits that slot together and create immediate impact. The great thing about kits is they cover imperfect walls and go up in a day for a speedy result.
However, don't expect them to be cheap because you can spend over $1,000. This Dreamline kit comes with built-in shelving to provide additional storage.
Slate Surround
Slate is a great material for bathrooms because it is waterproof and stands up to moisture damage. If you want to create a classy bathroom with slate, you had better dig deep because slate is one of the most expensive options.
However, a slate surround might be a cheaper alternative to covering the walls in slate, giving immediate impact. This image uses slate on the walls and surround to tie in both elements.
Plaster Surround
The great thing about plaster is you can create any design and style. Go smooth, go rippled, go patterned. Plaster may not be an obvious choice for your tub surround, but it could be if you're building a tub from cement blocks.
The only downside with plaster is it takes days to set and is tricky to get right. You might be better off employing a skilled professional to complete this aspect of your project.
Mosaic Surround
We can learn a thing or two from the Romans regarding mosaics. They were the masters of mosaic bathtubs, which are still fashionable today.
Modern mosaics come in sheets, so you can apply them faster and more efficiently. This image shows how creative you can be with a recurring pattern that cascades down the tub and onto the floor.
Mural Surround
Humans have been painting wall scenes for thousands of years. So, if it's good enough for your ancestors, why not you? Murals liven up the dullest rooms and create a point of interest in the bathroom.
While the tub panel may be plain white, the surrounding walls of this flamingo-inspired artwork brighten the space. Add a few accessories to dress the room, and you have a recipe for a unique bathtub surround.
Corian Surround
Corian is a material that mixes metals and plastics. It is manufactured by Dupont and can be molded into any shape. This example mimics paneling similar to old-fashioned doors. The panel and the wall tie the design together to create a classic look from days gone by.
Plain White Surround
White never goes out of fashion. It gives your bathroom a clean and bright interior, and it is easy to keep clean. Some may think that too much white makes the room feel stark, but opinions differ.
This example of a classy white bathroom makes the room feel larger and brighter; the only color comes from the paint on the walls. You can add accent colors by selecting ornaments and accessories that stand out.
Can You Install a Bathtub Surround Yourself?
You can install a bathtub apron yourself, provided that you have the skills and tools needed to complete the project. It won't work if you have zero experience and jump straight into the deep end.
If you are a novice, enlist some help from someone who knows what they are doing or call in the pros. It will cost you more money, but at least you'll get the job done right.
FAQs
---
Final Thoughts
Your budget dictates most choices, but there are ways of getting creative. When the time comes to decorate your bathroom, give some time and thought to tub surround ideas. It will add to your color scheme and enhance your bathing experience.
Hopefully, this article has sparked your imagination and given you some fresh ideas about your tub surround. So, now you have no excuse to get started on that project you've been putting off.
Thank You For Your Feedback!
Thank You For Your Feedback!