Are you ready to remodel the bathroom and looking for some color inspiration? With the endless color options these days, it can be overwhelming. Choosing the right color, tone, hue, or shade can make or break the whole space.
Lucky for you, we've got some great bathroom paint color options to choose from.
Aside from amazing bathroom paint ideas, we'll talk about how to choose the best bathroom color for your own style and home design.
Key Takeaways
Consider the lighting when choosing a paint color, as it can affect how the color appears in your bathroom.
Think about the room size and choose colors that complement the space and existing flooring.
Experiment with different color combinations, like pale yellow, greige, and baby blue for a unique bathroom look.
Remember to pair your chosen paint color with complementary bathroom accessories and hardware.
---
How to Choose a Bathroom Paint Color
Before I show you some of the best bathroom colors, here are a few pointers on how to pick your paint colors.
Consider the Lighting
The color of your bathroom walls changes if you have a window or not. This is because the same hue might appear very different in natural light versus artificial light.
Before making a final decision, take a sample home and hold it up to the wall. It should give you a sense of how it will look in your home. Also keep in mind that the color may look lighter or darker at different times of the day.
Think Room Size
Always consider the scale of the room when choosing paint colors. While a bright or vibrant color could look fine in a powder room, it might be out of place in the master bathroom. Also, painting the ceiling darker than the walls can make a bathroom appear smaller and cozier.
Pay Attention to the Floors
Floors are a permanent element in the space and are not as interchangeable as paint color. So choose a color for your walls that complements your current flooring. If you're dealing with a non-traditional floor color, you'll be more limited than trying to match colors with neutral flooring.
But, if you plan to change the floor, this is a great chance to pick a combo you love.
Best Bathroom Paint Colors
Indulge in these bathroom color ideas if you're looking for new and inspiring ways to paint the bathroom.
1.

Pale Yellow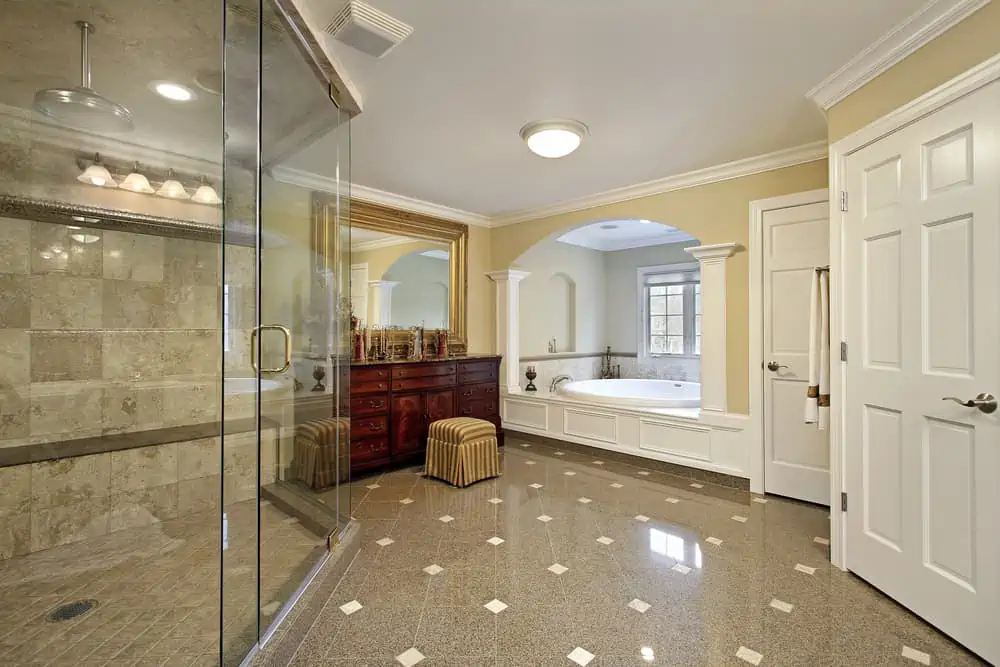 The neutral tones of pale yellow paint go with a wide range of styles, making it a great choice for any bathroom.
For those who don't want to re-paint, utilize these warm and neutral colors in other areas of the room, such as towels or countertop items.
2.

Greige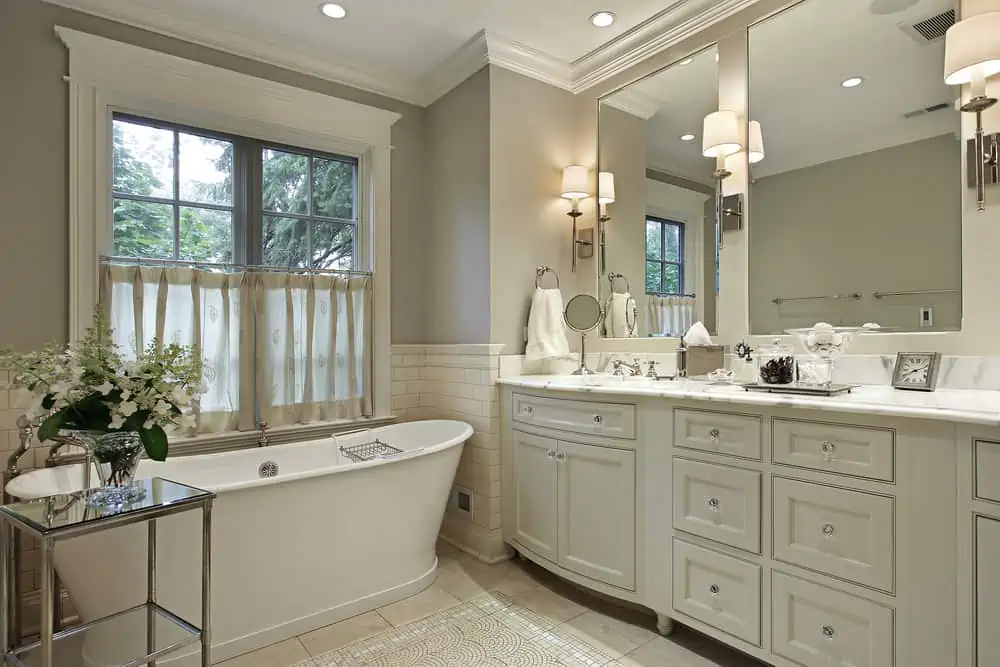 This hue is quite versatile: it can be used with any shade of gray or beige. You can see it paired with a white tub, marble countertop, and a gorgeous glass side table. Even the curtains match the color scheme.
3.

Baby Blue
A blue, beige, and white bathroom works wonderfully for rustic, cottage, coastal, or shabby-chic décor. Retrofitting an antique bathroom with a baby blue color scheme is possible with the right choice of accents and accessories.
Color Tip
Other colors to go with a shabby-chic look are cream, dusty rose, and light sage. Pair them with elements of driftwood and weathered furniture.
4.

Black
Black is the hottest color right now, and for good reason: it's elegant, classy, and a breeze to coordinate with other hues.
Even if black can make a small room appear smaller, it works wonderfully in this larger space, especially due to the contrast with the white furniture and accessories.
5.

White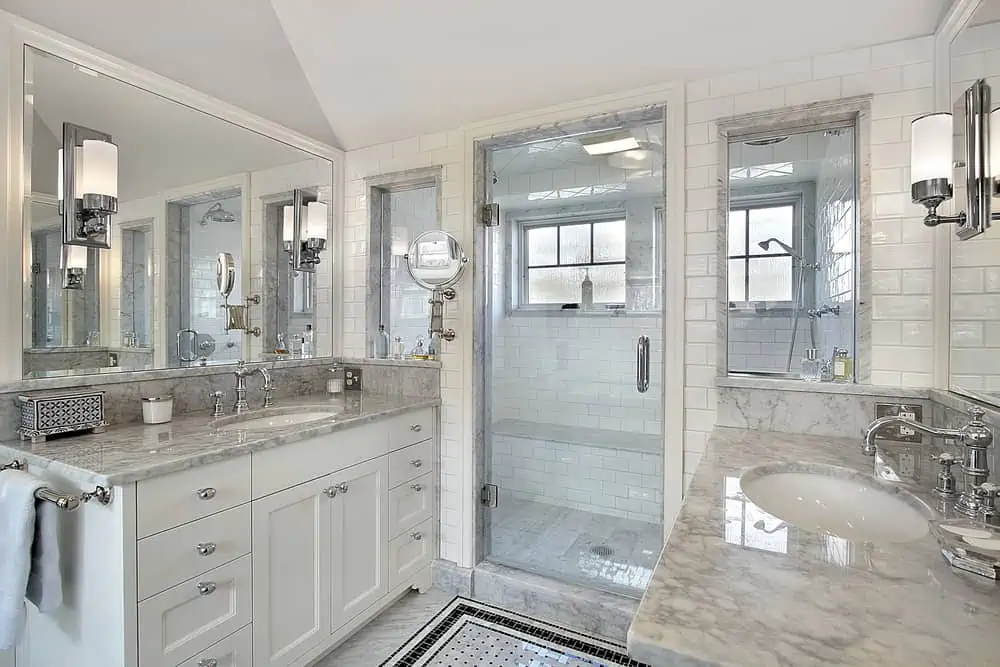 When it comes to brightening up your environment, white is a great option. If you're looking to give your bathroom a serene and tidy vibe, this neutral color is the ideal choice.
Pair it with marble countertops and chrome accessories, and the space feels almost luxurious. It would make a wonderful contrast with dark cabinets and bathroom accessories.
6.

Orange-Mustard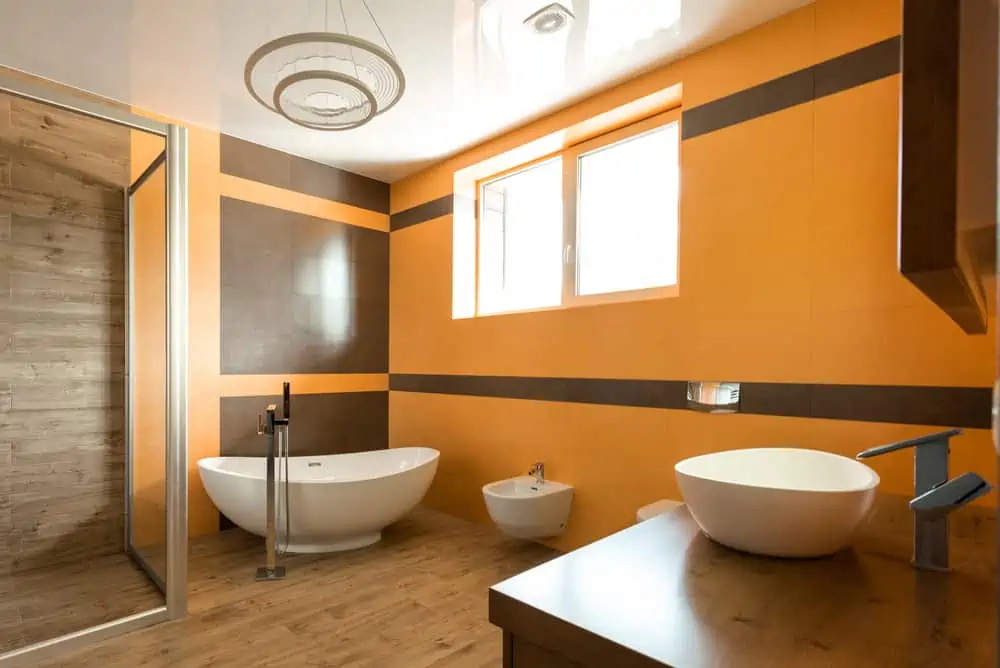 Orange-mustard feels like a very bold and powerful color choice for a bathroom. It looks great with shades of pink, brown, navy blue, or black, and it's a great choice for giving your bathroom a retro feel.
7.

Creams and Browns
Creams and browns are excellent color choices for a bathroom. They go well with different types of hardware finishes. They also make great base colors if you ever want to add accent color pieces and provide your bathroom with a timeless look.
8.

Teal
Adding a tinge of green to a deep blue, teal is an ideal color for a bathroom's color scheme. This gorgeous teal bathroom with white furniture and accessories makes it feel like you're floating stress-free in the middle of the ocean. Montego Bay by PPG would make a great color option.
9.

Blue with White Wainscotting
This is one of the best color combinations out there. Blue is such a calming wall color. The white wainscotting makes it so that no shades of blue are too bold or too overwhelming.
10.

Gray
The color gray exudes a serene demeanor. You get a sense of serenity and stability because of its neutral appearance, hovering somewhere between black and white. For a minimalist bathroom like this one, it's a great color option.
11.

Neon Green
This is certainly not a color for everyone. It has a vividness and brightness to it that not all will find appealing.
However, you can tone down some of its power with a neutral color choice, such as gray. Benjamin Moore's Neon Green will make an excellent paint choice if you enjoy this color.
12.

Tan
Tan is a neutral bathroom color that's both soothing and easy to match with other colors. Notice here how even a bathroom that's entirely covered in tan can look luxurious and have a very soothing vibe.
13.

Lime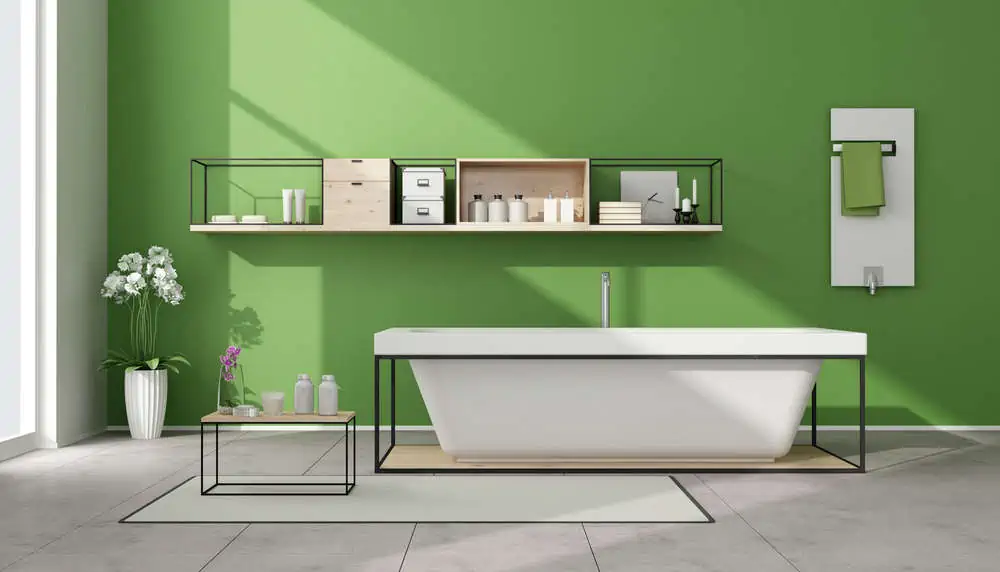 If you want a more electric color in your bathroom, lime is an excellent option. It isn't easy to pair and either requires neutrals or other powerful colors, such as pink. Pick Laudable Lime by Sherwin Williams if you want a wall color like the one in this example.
14.

Mint
The tranquility of a gentle, minty green sets the tone for a soothing bathroom, especially since the color is light and somewhat natural.
Pair it with blush, ice blue, or even yellow. To play it safe, choose white and neutrals.
15.

Coral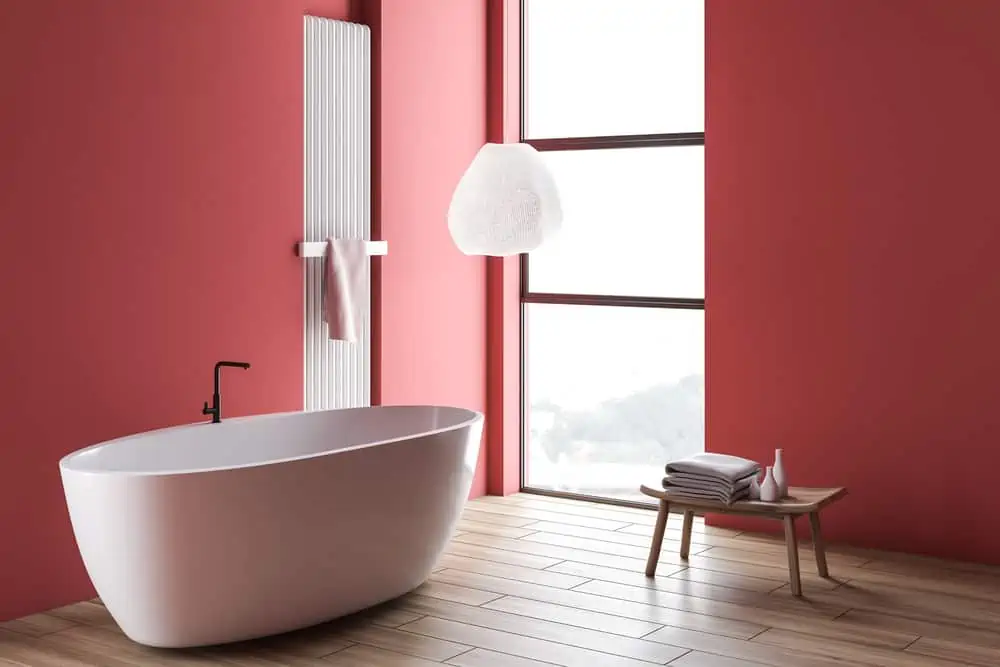 This is a cheerful, upbeat color. As a result, it has a place in the bathroom, which is typically thought of as a cool chamber. Coral Reef by Sherwin-Williams is an exceptional choice.
16.

Purple
Some might argue that purple is a moody color and tough to match, but there are a lot of different shades of purple to choose from.
I love the combination of purple and brown in this bathroom. The white and brown tone down some of that purple intensity throughout the room.
17.

Muted Blue Over Wall Paneling
Do you have bathroom wall paneling that needs a makeover? Choose a muted blue shade, such as Inchyra Blue by Farrow & Ball, to add a dash of color to a contemporary environment. The gray undertone perfectly matches the gray tub and black and white marble-style flooring.
18.

Custard
One color that you can't go wrong with is Creamy Custard by PPG. Custard is a golden yellow-orange with a honey-orange undertone that is delicate and pure. This is the ideal shade for your bathroom walls because it goes well with white bathroom furnishings and accessories.
19.

Mauve
Mauve is a specific shade of light purple that can add a lot of personality to a bathroom. It's a color that adds depth and works well when paired with neutral tones because it's so powerful.
It's a sexy color. And, if you find some floral mauve tiles, you could create something truly astonishing in the comfort of your own home.
20.

Baby Pink
A lot of people think of pink and imagine a very powerful color that's girly and overwhelming. There are a lot of shades of pink to choose from, like this baby pink shade that's close to salmon. If you like this color, I suggest Pink Hibiscus by Benjamin Moore.
21.

Earthy Green
If you love the idea of an earthy green bathroom, I have the perfect color suggestion for you. Calke Green by Farrow & Ball has rich sage undertones.
Because of its dark and imposing appearance, it's best suited for smaller bathrooms. To bring out the rich sage undertones, use it alone on walls and pair it with wooden floorings, like in this bathroom.
22.

Deep Teal Accent Wall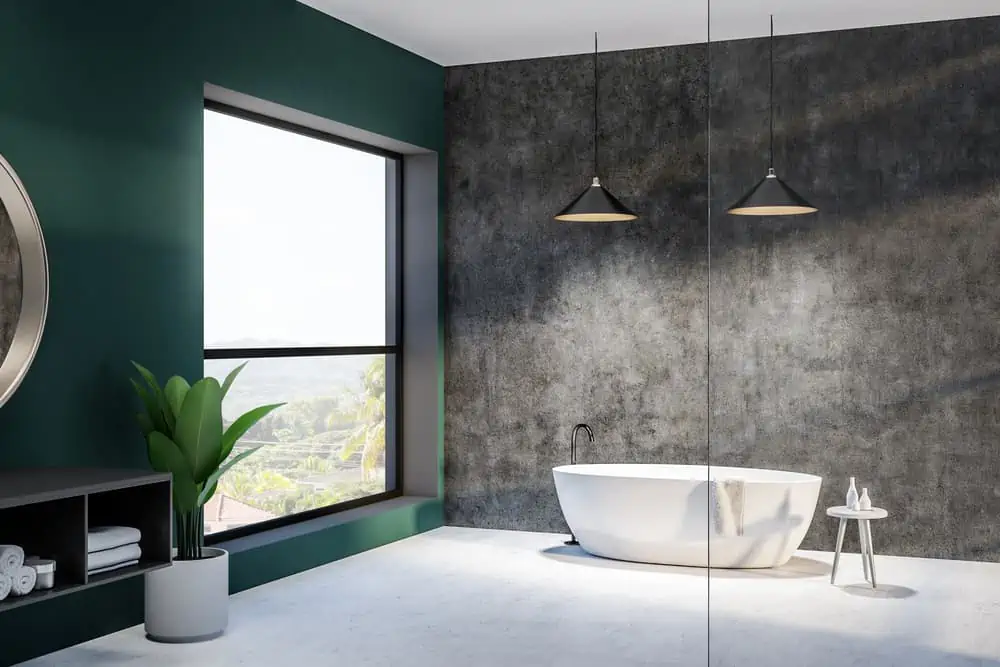 Teal is the perfect color for a bathroom color scheme. Designers are beginning to use teal in a variety of ways. Go light and muted, or deep and bold.
If you think too much teal is overwhelming, why not use it on an accent wall. It also works well with different shades of gray and gold bathroom accents.
23.

Crimson
Crimson isn't always a go-to bathroom color, but it has a very powerful vibe to it. Crimson can be used in a variety of ways in the bathroom. Use it as a dramatic backdrop, a cozy accent, or a refined tint that plays with the color's various properties.
Dark Crimson by Behr is an excellent color choice if you're looking for something a little darker than what's shown in this picture.
24.

Rust with Texture
As a combination of orange and brown, rust is a very deep shade. It has a mysterious appearance to it, which is what a lot of people are looking for when scouting for bathroom paint ideas.
Pair it with white furniture and chrome bathroom hardware, or use it as an accent color for your bathroom walls.
25.

Caramel
Just as the name implies, caramel is a very delicious color. It makes you think about enjoying fudge alongside a glass of Frappuccino.
In the bathroom, it can be a very elegant color that looks amazing with golden-finish bathroom hardware. It can be an exquisite color that looks amazing with golden-finish hardware in the bathroom. I love Caramel Cream by Dulux for renovating a bathroom!
26.

Lavender
The use of lavender in designing a new bathroom quickly communicates an individual's artistic and creative spirit. According to psychologists, those who chose this color have an easier time connecting with the natural world. Lavender and brown create a perfectly harmonious bathroom.
27.

Off-White
An elegant effect can be achieved by layering white and off-white paint colors. Off-white is another bathroom paint color that you can't go wrong with because you can pair it with everything. If you want to add a drop of color, go with a bold mirror frame.
28.

Emerald
This color combination of green and wood reminds me of a picnic in the woods, with plants and romantic woodland. Add a dash of gold or copper to make this look a little more upscale. Espalier by Sherwin-Williams might be the perfect wall paint color for this look.
29.

Periwinkle
Periwinkle combines a dash of blue with a dash of purple. For a more mature and relaxing atmosphere, this color is an excellent choice for paint. Consider Periwinkle by Behr for your bathroom if you're looking for a contemporary and classy look.
30.

Yellow with Blue Tile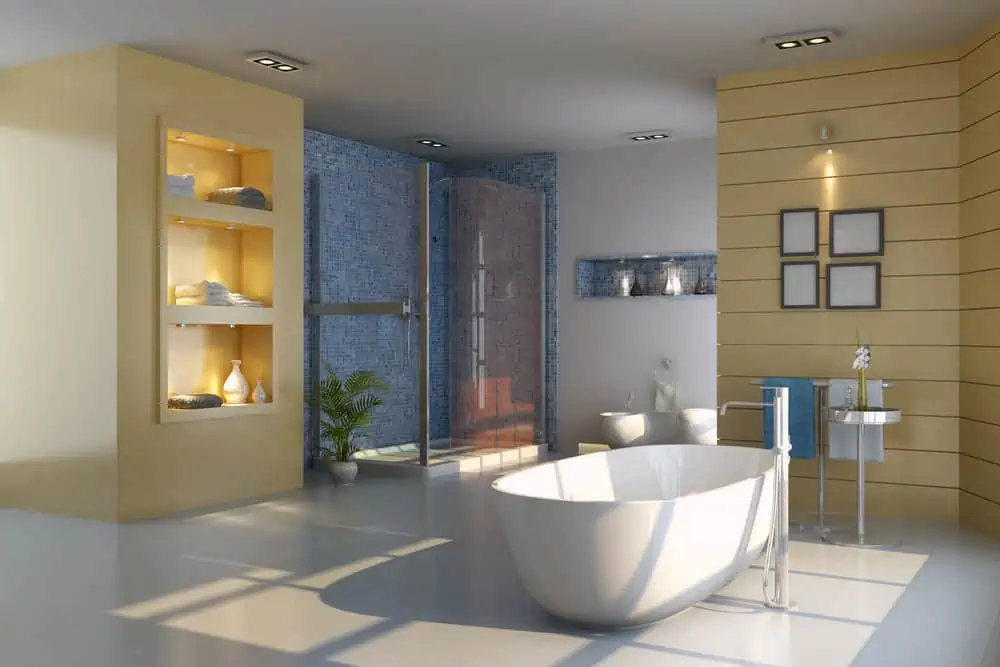 For the authoritative blue, yellow is the ultimate attention-grabber, creating a young backdrop. The combination of colors in this bathroom is fun and assured at the same time.
Since using the two colors 50-50 might be too much, here we see a predominantly yellow bathroom with blue tiles in the shower.
31.

Charcoal

You're going to love the combination between charcoal and nature-inspired elements. It feels like taking a bath in the forest!

A lot of hard labor is involved in remodeling a bathroom. Graphite or charcoal can produce remarkable results and make a space seem high-end. Add sparkles to the paint to create an ultra-modern effect!
32.

Bright Blue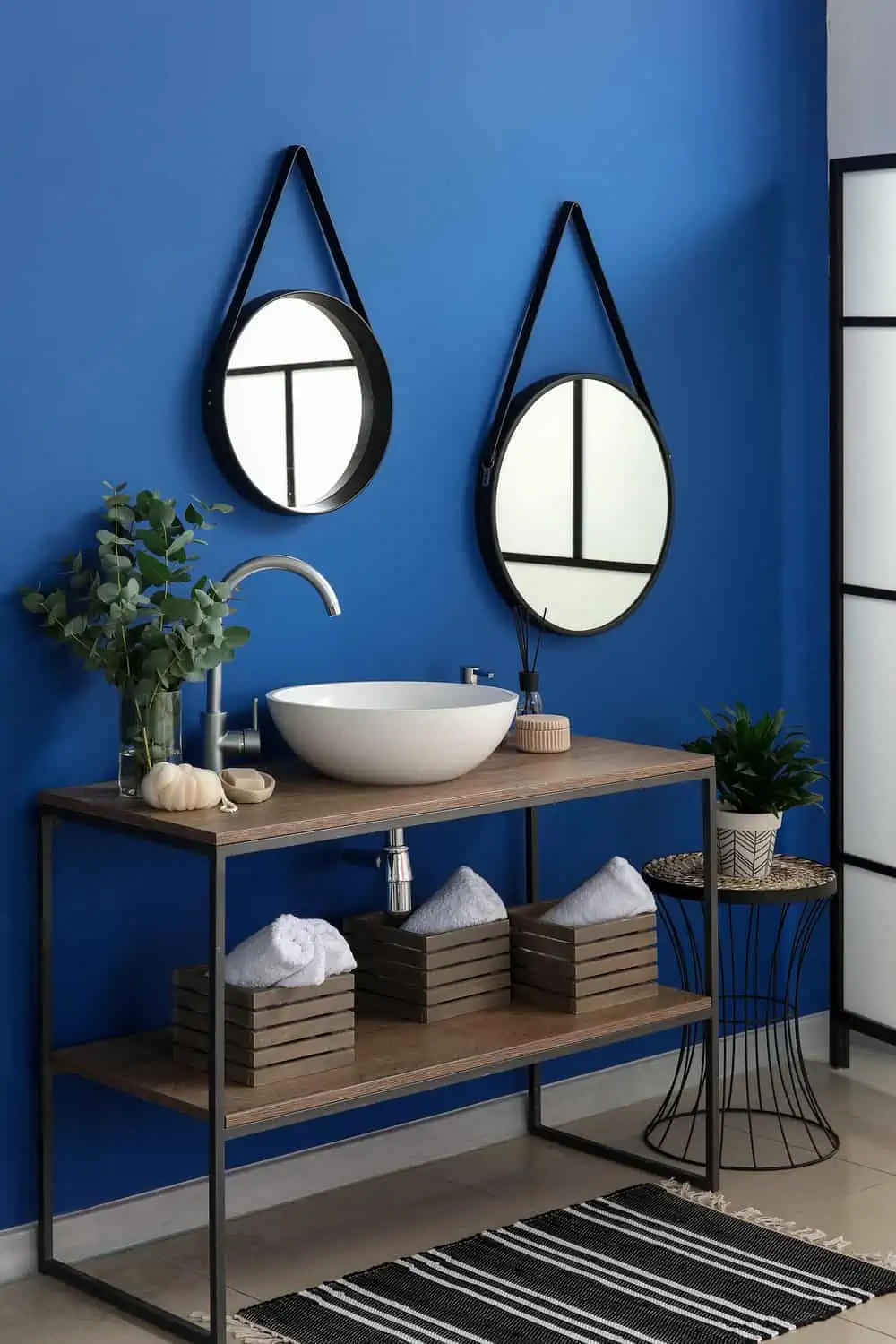 Blue can be the color of the sky outside your bathroom window or the deep blue water you remember from a favorite vacation.
As you can see in this example, this bright shade of blue is excellent when paired with a wooden sink base. The black metal legs and mirror frames give the entire decor a touch of glass.
33.

Stark White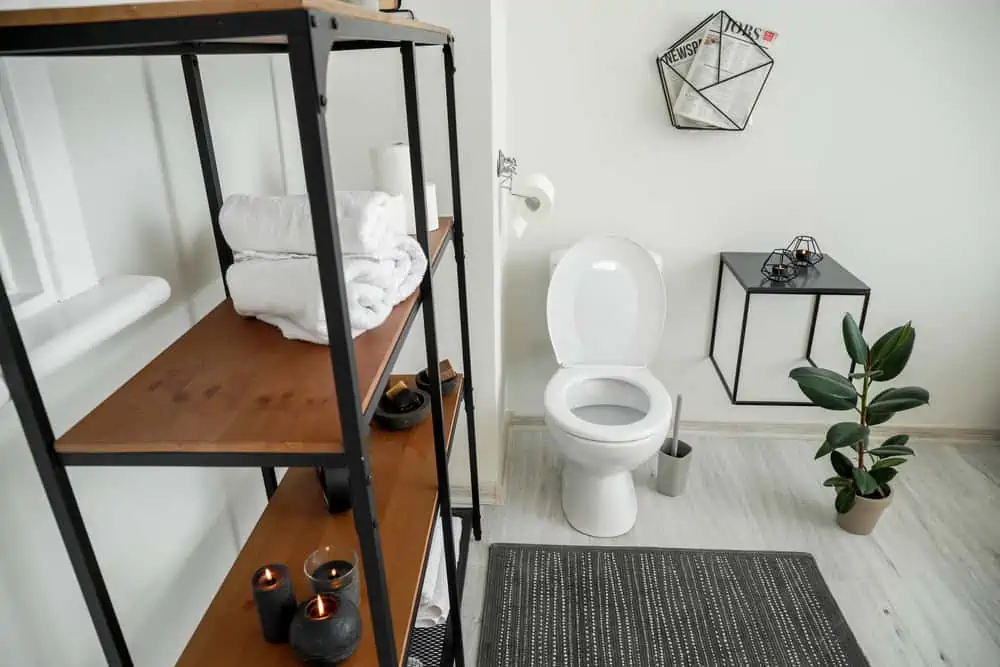 Despite its name, stark white is a shade of yellow. Because of its very pale shade, stark white can be paired with almost anything.
You'll notice the wooden shelves and black metal frames that pair well with the light wall color in this photo. Play around with reds, greens, and even grays if you choose stark white as a bathroom color.
34.

Violet
Unlike its aubergine cousin, Benjamin Moore's Eggplant is a dark, rich color that's not for the faint of heart. Make use of this color if your bathroom has any period-appropriate characteristics. It works very well in bathrooms with plenty of white furniture and chrome-finish hardware.
35.

Lilac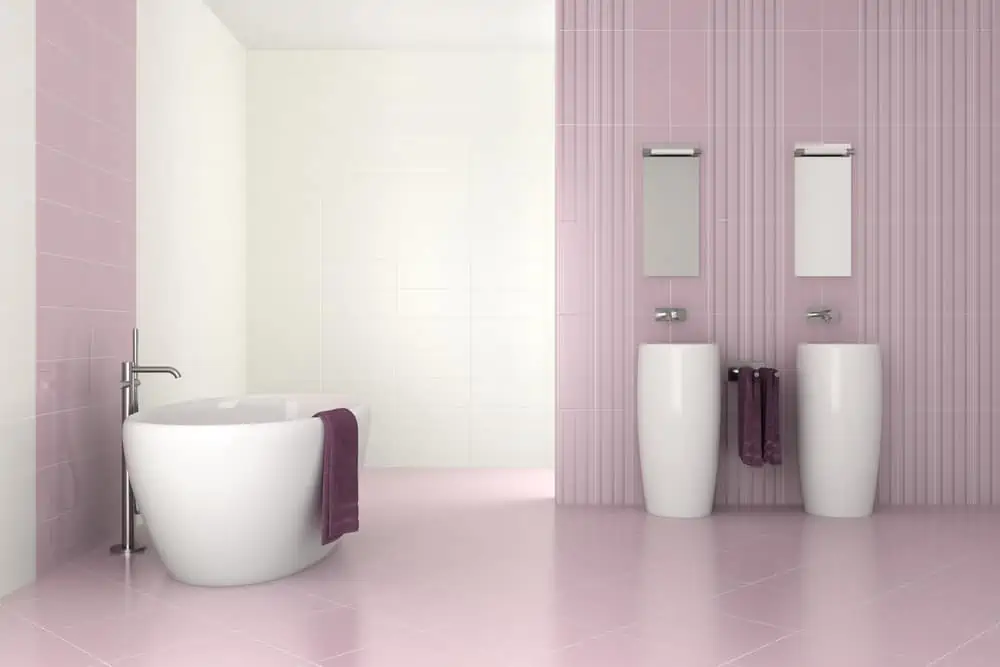 Painting a bathroom in shades of lilac is like taking a stroll through a field of flowers every time you're brushing your teeth. It is a very soothing shade that inspires tranquility.
Pair it with deeper shades of purple for a beautiful contrast. Choose natural-looking furniture if you want richer chromatic experiences.
36.

Orange Blossom
To make the best out of orange blossom for the bathroom, pick the paint with the same name from Benjamin Moore. It's a very bold color that's mostly recommended for an accent wall or as a back panel color for your bathroom vanity.
Designer Tip
Orange too bright for you? Tone it down with some neutrals or even a few drops of black (used either in the mirror frames, sconces, or bathroom fixtures).
37.

Curry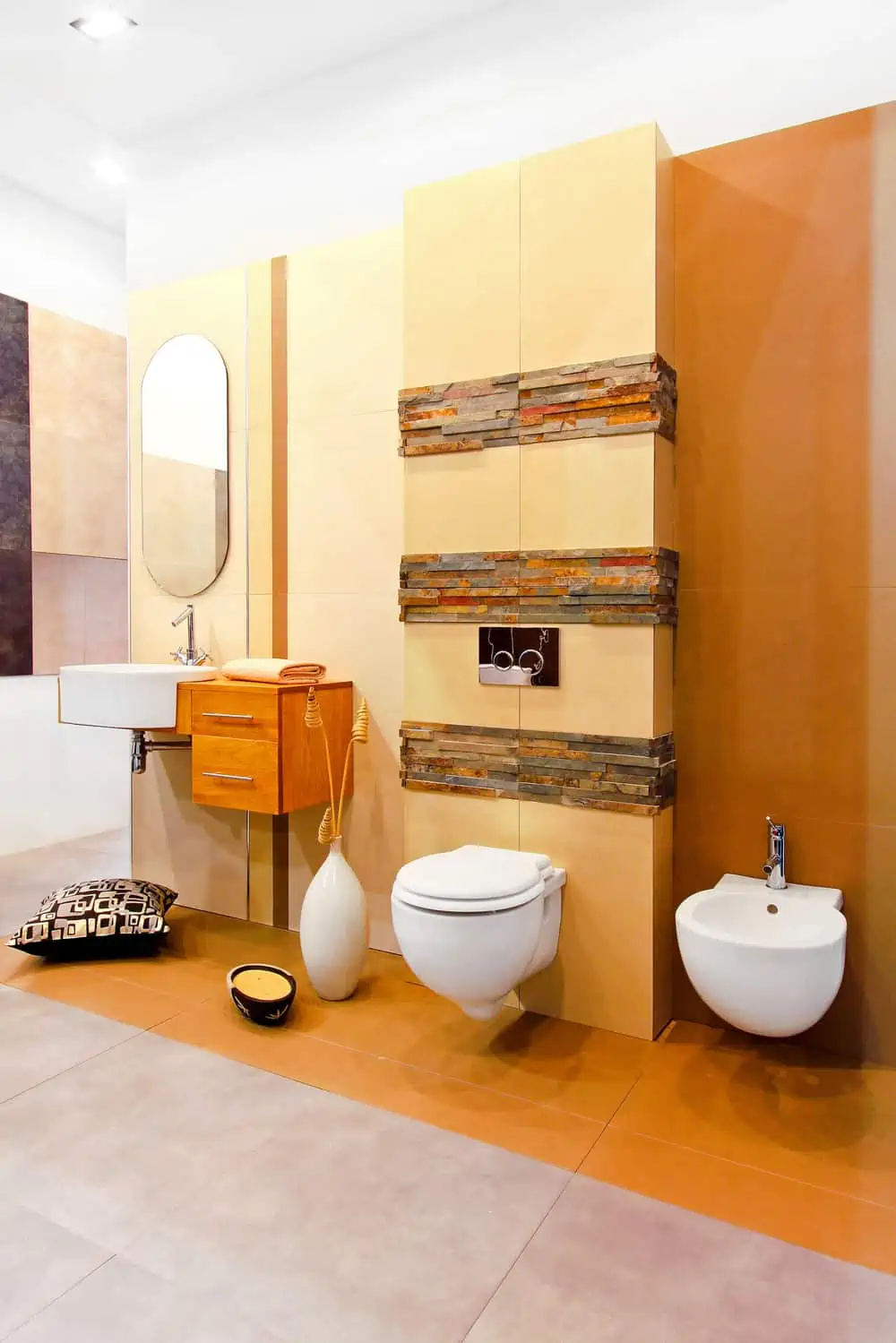 The yellow and orange undertones of curry paint make it excellent for bathrooms that have natural stone colors and elements. It also pairs well with wooden colors. Dash of Curry by Benjamin Moore is a great color for painting a bathroom.
38.

Gray-Blue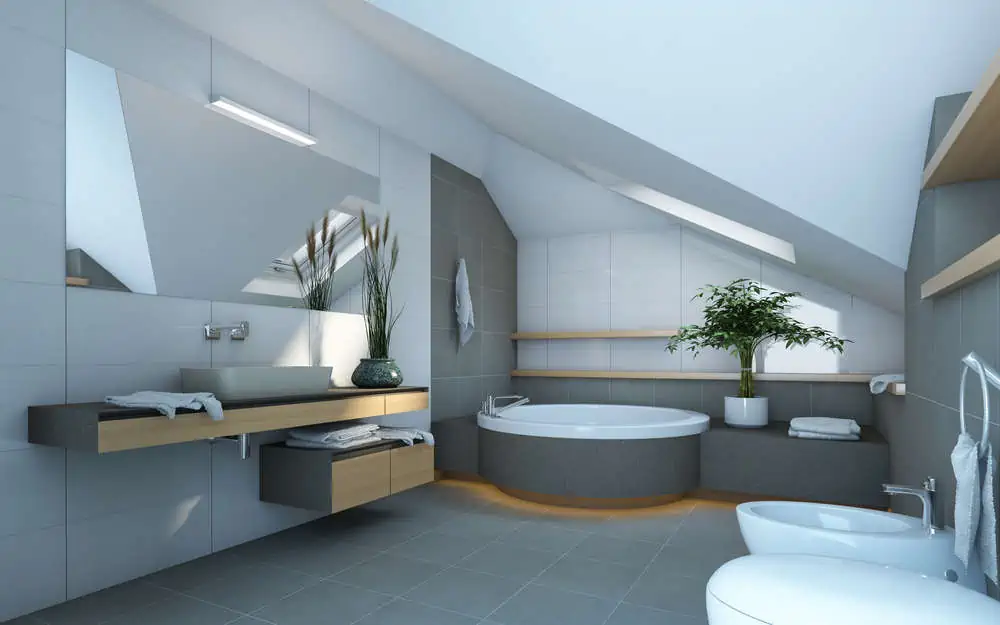 Gray-blue, also known as slate purple, is a perfect combination of gray and blue, two colors that fit almost any bathroom. The timeless elegance of this color makes it both masculine and feminine and can be paired with colors such as caramel, off-white, cream, and gray.
39.

Gray-Purple
Great for pairing with jewel and wooden tones, gray-purple is an excellent choice for calm and mysterious bathrooms. If you have a small bathroom with a lot of wooden shades and elements, paint a wall gray-purple to enjoy the perfect setup for a warm bubbly bath.
40.

Taupe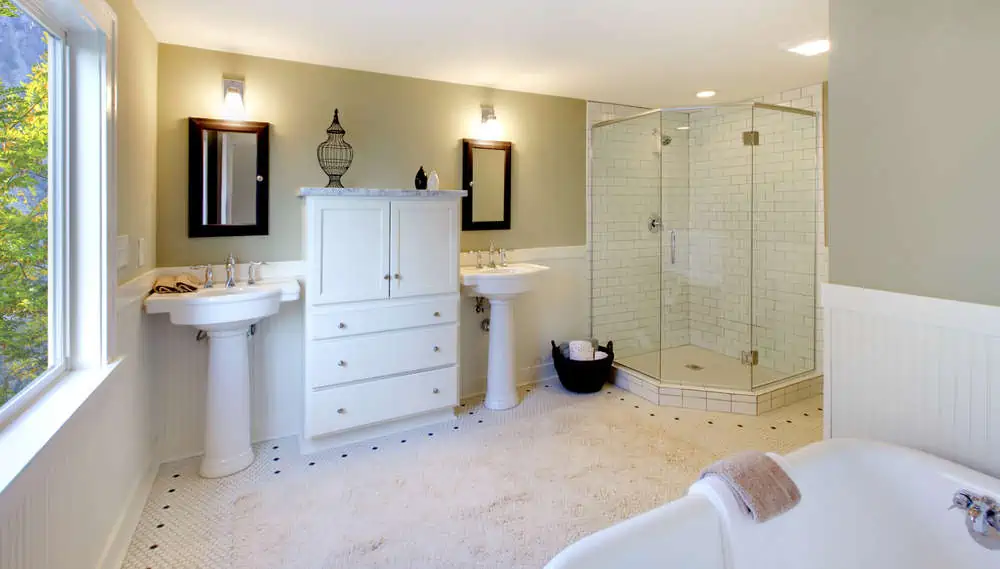 Taupe is a versatile color that may be used in a variety of ways. The hue goes well with both natural and ivory-colored items. In situations when you wish to incorporate both modern and classic elements, Benjamin Moore's Hampshire Taupe is the color of choice.
What Bathroom Colors Are Trending in 2022?
Each year, we get an array of trending colors and schemes. If you're worried about them going out of style, just use them as accents.
Citrus & Berry
To create a one-of-a-kind space, incorporate antique citrus hues and eye-catching berry tones. In a bathroom, a rich purple like Blackberry would be striking, but it goes nicely with a variety of materials, including white subway tile and gold fixtures.
Blues & Greens
Renovating the bathroom where you begin and end each day is an excellent opportunity to create a magnificent yet understated ambiance.
Creating a peaceful and serene environment is essential. Focus on classics like gentle blues and cool whites, as well as green, which is a 2022 color trend.
Beige
This season's beige colors are as close to natural as possible, and you'll instantly notice how they fit in with the surrounding environment. Although Behr and Pantone only offered one beige shade each, Sherwin-Williams more than makes up for it.
Purple
Aristocratic and mysterious colors continue to be popular with fashion designers for the second year in a row—and fashionistas are eager to meet them.
It's no surprise that Pantone's Purple Rose and Sherwin-Williams Lavender and Blackberry are the colors of the year in 2022. Painting an accent wall allows you to create an entirely new look.
What is the Most Common Bathroom Color?
According to expert interior designers, the most popular bathroom color schemes are shades of light green, modern blue, and warmer neutrals.
---
Bottom Line
I hope this list of bathroom paint colors gave you at least a starting point for your remodeling project. Remember to ask for swatches or take advantage of software and apps that can allow you to visualize what your bathroom would look like with the colors of your choice.
Thank You For Your Feedback!
Thank You For Your Feedback!