Contaminants can get into your air compressor, causing damage to the components and your air tools. Making sure the water that collects in your air tank is as clean as possible is vital to the long working life of your devices.
Here's our guide to getting the best water separator for your air compressor.
Image
Model
Product Comparison Table
Features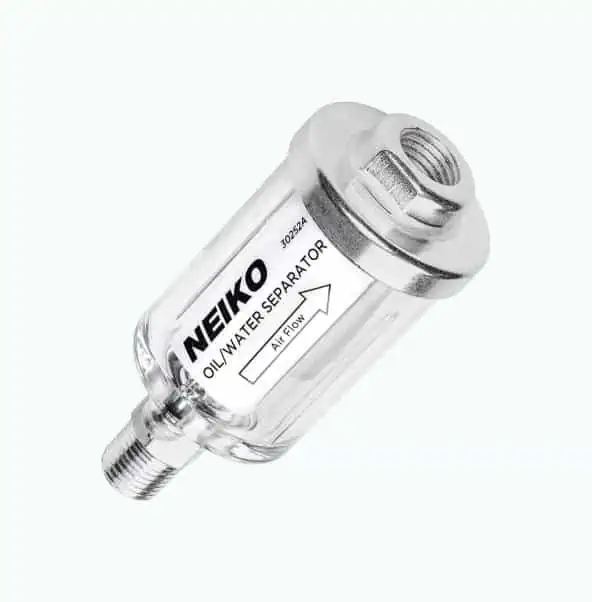 Best Water & Oil Separator
Neiko Water and Oil Separator
Quick-release housing
Aluminum body
Universal inlet
Best High-Flow Water Separator
THB Heavy-Duty Water Regulator
Maximum of 175 psi
All-metal housing
Automatic drain
Best With Quick-Release Bowl
Campbell Hausfeld Water Regulator
Quick-release valve
Traps 99.9% of particles
0.375-inch NPT inlet
Best With Auto Drain
CrocSee Auto Drain Water Regulator
Auto-drain feature
Maximum of 145 psi
0.25-inch inlet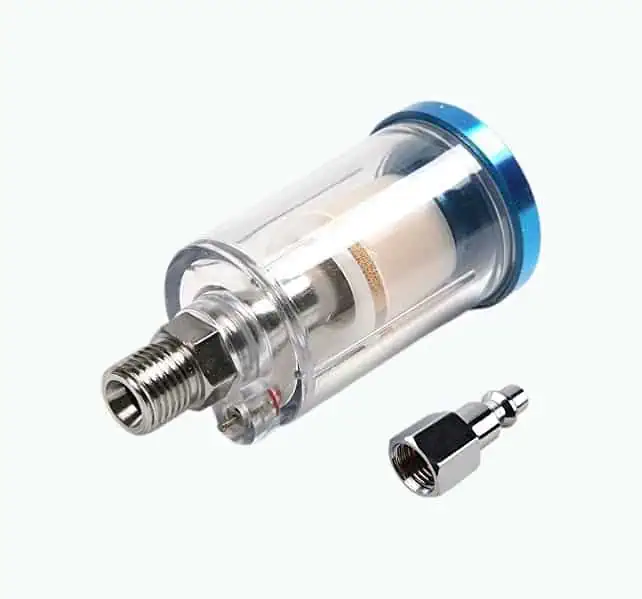 Best Water Separator for Painting
Jewboer Water Oil Separator
Attaches directly to the air tool
Maximum of 90 psi
Made from zinc alloy
Review Methodology: At Sensible Digs, we prioritize your needs and trust by providing comprehensive and hands-on evaluations of the best water separators for air compressors. Our experienced professionals conduct thorough research, use stringent criteria, and employ rigorous tests to rank and review each product. We analyze factors like performance, design, and user experience, and compare each separator to its competitors. Our assessments and findings are based on first-hand experience and solid data, ensuring that our recommendations are reliable. We explore the key decision-making factors such as durability, cost-effectiveness, and efficiency, providing you with the information you need to make an informed choice. Trust us to help you find the best water separator for your air compressor needs.
---
---
The Best Air Compressor Water Separators of 2023
Here are our top 5 air compressor water seperators.
Neiko 30252A Water and Oil Separator
Best Air Compressor Water & Oil Separator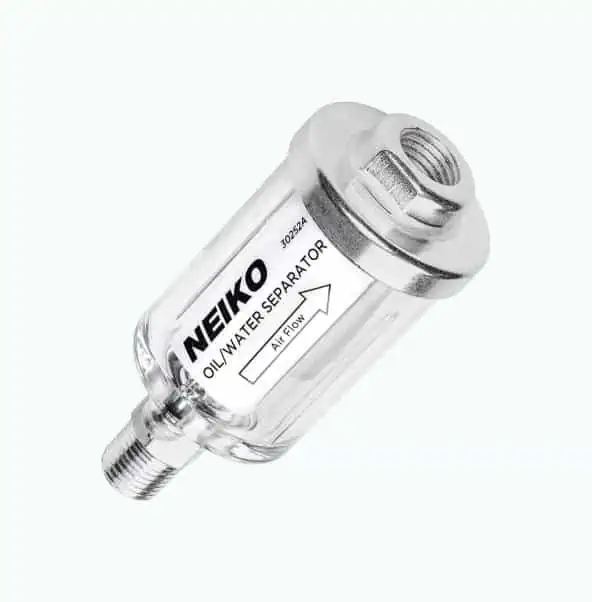 This Neiko is our pick for the top water separator, and looking at the satisfaction ratings and the sheer number of sales, it's easy to see why. It has a 0.25-inch NPT universal inlet, which easily connects with spray guns and air tools.
It's well constructed, with aluminum housing and brass fittings to maximize the lifespan and a clear polycarbonate bowl so you can see when the filter needs changing. Just press the release valve, and all the debris escapes. It also operates on a maximum working pressure of 90 PSI.
The other great thing about this separator is the price. It sells for a lot less than many similar models, and yet it gets great reviews.
For all-round performance, price, and customer satisfaction, this had to be our top pick.
Pros
Great price.
Quick-release housing.
Aluminum body.
Universal inlet.
Product Specs
| | |
| --- | --- |
| Weight (ounces) | 3.52 |
| Dimensions (inches) | 6.8 x 5.1 x 2 |
| Max PSI | 90 (Comes in a 150 PSI version) |
| Material | Aluminum |
| Inlet size (inches) | 0.25 |
| Price | $ |
Our Ratings
Community Feedback
"This separator certainly fulfills its intended purpose, but the experience wasn't without its challenges. After a few uses, I noticed hairline cracks forming and never witnessed the pressure surpass 65 psi, which was disappointing. On installation, I discovered a hissing noise and traced it to a leak between the housing and the fitting, a location impossible to fix. Despite these setbacks, the separator does function better when oriented with the purge pointing downward and it has been efficient in stopping condensation drip."
---
THB Heavy-Duty Water Regulator
Best High-Flow Air Compressor Water Separator
If you want a separator that handles high flow rates, this could be the best choice. It has a maximum working pressure of 175 PSI and an airflow rate of 140 CFM. This device gives you the option to scale up your tools and get some heavy-duty work done.
It keeps dirt, dust, and oil from entering your compressor tank and damaging your air tools, and thanks to the metal bowl and housing, it is robust enough to take whatever punishment you throw at it.
The NPT inlet is 0.375 inches in diameter, but it does come in a larger 0.50-inch size. It even has an automatic drain that kicks in when the bowl gets to half-full. This saves you precious time and keeps you working as you don't have to stop to empty the debris from the bowl.
Pros
0.375-inch inlet.
140 CFM.
Maximum of 175 PSI.
All-metal housing.
Automatic drain.
Product Specs
| | |
| --- | --- |
| Weight (ounces) | 1.65 pounds |
| Dimensions (inches) | 8.78 x 3.58 x 2.87 |
| Max PSI | 175 |
| Material | Metal |
| Inlet size (inches) | 0.375 |
| Price | $$$$ |
Our Ratings
Community Feedback
"For individuals seeking a well-constructed product, this water separator proves to be a noteworthy contender. Although I initially delayed its usage, once I finally installed it, my personal hands-on experience with this device in the humid North Carolinian climate was impressive; it efficiently managed the heat and humidity, performing like a champ without accumulating water. However, I did notice a minor flaw - the auto float didn't function as well as expected. Nonetheless, this water separator offers good value and successfully keeps the air dry for my sandblaster, providing a significant improvement over the plastic versions that are prone to cracking."
---
Campbell Hausfeld Quick Release Water Regulator
Best Air Compressor Water Separator With Quick-Release Bowl
Campbell Hausfeld is a respected name in the compressor world, so it stands to reason that they should also produce outstanding water separators. This model has a quick release feature that enables you to remove the dirt and debris faster than other models.
Unlike the Neiko, this separator has a 0.375-inch NPT inlet, so it's slightly wider. The oil filter traps 99.9 percent of all oil aerosols, and the desiccant system removes water vapor, and the outlet screen stops desiccant particles from entering the compressor.
This model stops particles as small as 5 microns and has an airflow of 57 CFM at 90 PSI. This water separator is more expensive than the Neiko, costing over 3 times as much, but when you look at the level of filtering this model offers, you might overlook the price.
Pros
Quick-release valve.
Traps 99.9 percent of particles.
0.375-inch NPT inlet.
Stops particles as small as 5 microns.
Product Specs
| | |
| --- | --- |
| Weight (ounces) | 8 |
| Dimensions (inches) | 3 x 3 x 10 |
| Max PSI | 90 |
| Material | Metal |
| Inlet size (inches) | 0.375 |
| Price | $$$ |
Our Ratings
Community Feedback
"I've been using this filter for quite some time and overall, I find it reliable and effective. The newer model, however, required some adjustments as its design is different from the older version I had. The new one doesn't have the quick-release feature and lacks the pre-drilled holes for mounting, which I had to manually add. On the downside, the plastic drain valve started leaking air after a few months and the internal o-ring was improperly installed. Despite the minor inconveniences, when properly set up, this filter does do its job well, especially in a home shop setting."
---
CrocSee C1.8C.027 0.25-Inch Automatic Drain Water Regulator
Best Air Compressor Water Separator With Auto Drain
Finding a water separator with an automatic drain is actually quite rare. Most models are either manual or semi-automatic. This CrocSee model has a drain system that empties when the compressor is idle and seals again when it is under pressure. You never have to worry about contaminants entering your compressor.
This separator cannot match the THB model for airflow and PSI maximums, but it does have a respectable maximum of 145 PSI and a CFM rate of 26. The NPT inlet measures 0.25 inches, and it has a working temperature of 140 degrees Fahrenheit.
It even comes with a wall bracket to help you mount it. Pricewise, this model is more in keeping with the Neiko separator, costing half that of the Campbell Hausfeld version.
Pros
Auto-drain feature.
Maximum of 145 PSI.
0.25-inch inlet.
Great price.
Product Specs
| | |
| --- | --- |
| Weight (ounces) | 4.8 |
| Dimensions (inches) | 4.88 x 2.01 x 2.01 |
| Max PSI | 145 |
| Material | Metal |
| Inlet size (inches) | 0.25 |
| Price | $$ |
Our Ratings
Community Feedback
"After using this water separator, I've noticed a significant improvement in the performance of my nail guns, as it effectively eliminates the condensation problem in my humid environment. The design could use some improvements - it's somewhat bulky and the power switch is not intuitive, but the quality of the valve and overall build seem superior compared to others I've used. I also found that the compact size was surprisingly beneficial for my setup, though it would be great if a small tube could be attached to direct the moisture output."
---
Jewboer Water Oil Separator For Spray Gun
Best Air Compressor Water Separator for Painting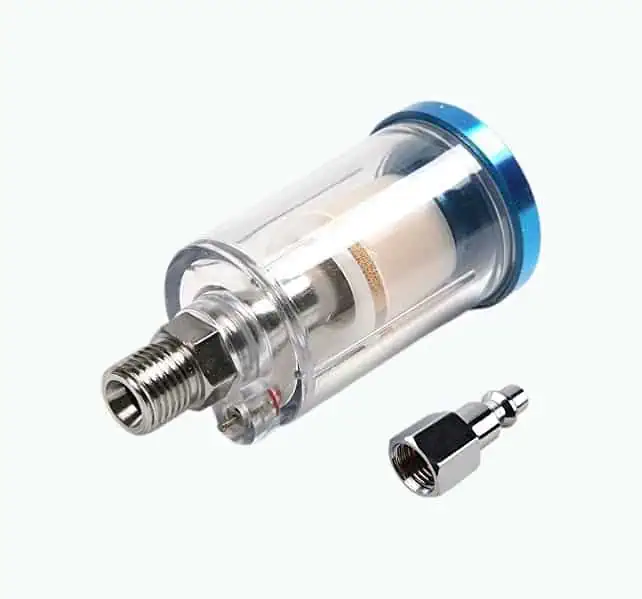 When it comes to using a spray paint gun, this Jewboer model is a great choice. It attaches directly to the air port of the spray gun so that you can monitor the separator for dirt and debris. It also allows the vapor to cool as it travels along the air compressor hose and collects in the bowl of the separator.
It has a maximum working pressure of 90 PSI, but with most spray guns, especially HVLP guns, they operate better at a lower PSI. This model stops oil, water, and foriegn objects from finding their way into your air tool.
The inlet and outlet port measure 0.25 inches, and it retails at an incredible price. The downside is while this separator is advertised as NPT, many buyers have complained that it is, in fact, an NPS thread.
Pros
Great price.
Attaches directly to the air tool.
Maximum of 90 PSI.
Made from zinc alloy.
Product Specs
| | |
| --- | --- |
| Weight (ounces) | 3.98 |
| Dimensions (inches) | 4.4 x 1.7 x 2.8 |
| Max PSI | 90 |
| Material | Zinc-alloy |
| Inlet size (inches) | 0.25 |
| Price | $ |
Our Ratings
Community Feedback
"I'm quite satisfied with the solid construction of this filter, and it served its purpose well during my car painting session. However, I noticed a minor leakage on the inlet side, where the plastic housing mates with the metal core tubing. This isn't a major issue, but it did cause the air compressor to run more cycles. I also found that this filter doesn't entirely prevent water from passing through, and it couldn't handle pressure beyond 90 PSI. Moreover, if tightened excessively, it tends to leak air from the connectors and may even fall apart. While overall it works decently, there are certain areas that could use some improvement."
---
Does My Air Compressor Need a Water Separator?
Water separators play a crucial role in protecting your air compressor. Contaminants are harmful to your air tools and can lead to damage and reduced working time. Compressed air contains vapor, which traps in your air tank.
There are variants of what constitutes contamination, but the main ones are:
Water.
Water vapor.
Solid particles.
Oil.
Oil vapor.
A water separator reduces the level of contaminants within that moisture, leaving your compressor free to do its job while you can drain the water away using the drainage valve.
How Does a Water Separator for Air Compressors Work?
There are two ways a water separator works to remove contaminants. Both are effective, but what are they?
Centrifugal Separators
This type of separator uses a spinning motion to rotate the air inside the tank. This causes the pollution particles to speed up, which pushes them to the outer edge of the tank towards the separator.
Draining the separator is done either manually or automatically.
Coalescing Separators
Coalescing separators use filters to trap pollutants. Compressed air passes through the inside of the filter, pushing it towards the outside, where it gets siphoned away.
Because the filters clog over time, it is advisable to change them regularly if you want to keep the compressor clean at all times.
How To Choose the Best Air Compressor Water Separator?
There are some basic features you should look for when choosing an air separator. Let's focus on what matters.
---
How To Use an Air Compressor Water Separator?
Knowing how to operate a water separator is vital if you want to get the most from it. Here's a handy guide.
1.

Keep a Distance Between the Tank and the Inlet

The air needs to cool before it rushes through the filter. If it's hot, it could cause the separator to stop working. You should keep a distance of 50 ft between the tank and the inlet.
2.

Mount on the Wall

Connect the L-shaped bracket to the filter and then tighten the bolts. Next, take a block of wood to mount the filter and then attach the whole thing to the wall.
3.

Connect the Hose

Making sure the port sizes match, connect the hose to the filter inlet.
4.

Run the Air Tools

Connect your hose to the air tool and then join the other to the filter. Switch on the power button, and keep an eye on the moisture levels as you work, especially if you have a manual drain system.
Water Seperator FAQs
---
Preserve Air Tools With a Water Separator
Water separators save you a lot of hassle further down the line because they keep the inside of your air compressor and tools squeaky clean. Imagine all that debris inside your compressor without a water separator. Think of the damage it can do and the cost of buying replacement tools.
When you weigh it up, it's pretty hard to deny that water separators are cheap and they save you money.
Thank You For Your Feedback!
Thank You For Your Feedback!